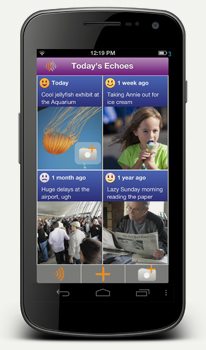 Welcome to the Human-Computer Interaction Laboratory!  Here you will find some information on our ongoing research with Echo.
Echo is a personal microblogging smartphone application that allows you to record and reflect on past experiences.  We call this practice, Technology Mediated Reflection (TMR).  We are interested in how TMR changes people's lives and influences well-being.  Our research explores the intersection of human memory and emotion.

Please click HERE to sign up to be a participant.